4 Hands massage
Who are Sensual Adventure massage?
An erotic massage should be sensual, satisfying and arousing. Here at Sensual Adventure it is our number one aim to bring you these high levels of sexual pleasure through a 5*, unforgettable erotic massage.  We are all about client satisfaction and authenticity, which is why we only use highly trained elite oriental masseuses who have been taught their skills from centuries of practice. We are aware that many other companies in the erotic massage industry do not provide high-standard services that you deserve, leaving you with a low- quality and disappointing experience. However, here at Sensual Adventure we are known for turning negative opinions the erotic massage services into positive, fulfilled ones. That is why many of our clients come back for more and more! Our services combine the mind, body and soul to give you that ultimate feeling of arousal and make you feel altitudes of intense pleasure that you did not think was possible. We care equally about your mental and physical journey throughout your erotic massage, and our oriental masseuses who have been trained at the finest massage schools and hand-picked especially to deliver these exceptional services know just how to do so.  They acknowledge that each person has their own unique needs and desires, which they use their special touch and gifted hands to take care of.
Too often life can become demanding and stressful, and we fully understand how the hectic life of a busy London man can create extra pressure, affecting you mentally and physically. Our erotic and relaxing services offer a nourishing solution to solve this problem, fitting around your tiring schedule at just a phone call away. Our massage services reach deep into the body and mind to leave you feeling replenished and sexually fulfilled and a lot more at ease than before.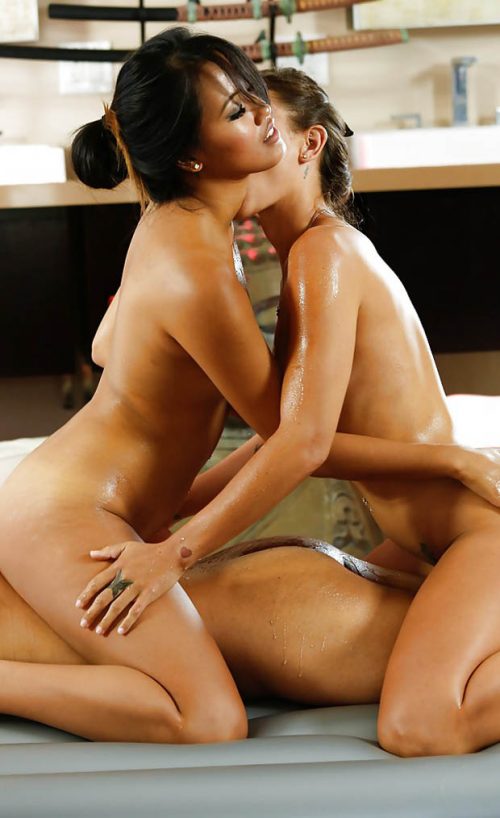 Why not try our 4 hands massage?
Almost every man's dream is to have two beautiful women tending to his sexual needs and desires. That is why we offer our mind-blowing 4 hands massage service, to allow you to indulge in the beauty of an erotic massage to a whole new level. Our 4 hands massage is particularly popular with those who have little time but perhaps require more attention and maximum relief. Imagine instead of one masseuse nurturing and tending to your body, you have two… Our 4 hand erotic massage can make that a reality for you! With more hands comes more feelings and freedom to explore various different parts of your body at the same time, reaching all those sensitive areas to help you reach heavenly heights of pleasure. The massage focuses in on your muscles, releasing any stress or tension that you may have, bringing your body and mind into a state of total relaxation. This erotic experience will help you put all your worries and strives aside, and let you live in the moment.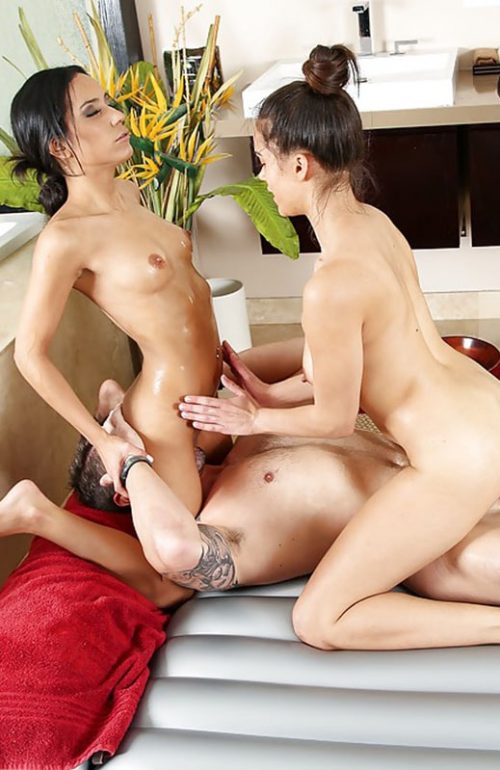 What can you expect?
Although a 4 hand massage may still be quite unfamiliar to many of the Western world, it is a speciality massage that has been shaped and sculpted to perfection for centuries throughout different regions in the East. We feel excited and honoured to be able to deliver this authentic service to our clients, especially to such a high standard. We believe that a 4 hand massage can help you mentally even more as each masseuse is able to take one half of the body, allowing healing on both sides of the brain. Ultimately, it is more effective than your standard massage as it is reaching all the pain receptors in your brain at the same time.  You get to experience two intense massages at the same time, that also combine to send one pleasurable rush through your muscles, electrifying each part of your body. You feel full body relief, unparalleled to any other massage that you will ever receive.
Your dream massage won't end when you leave, it is something that will say with you forever and have you craving for it again as soon as possible.
Our prices for a 4 Hands massage
Our prices are particularly competitive as we do not believe you should have to pay extortionate amounts for a quality service.  However if you are considering 4 Hands be aware that as you are requesting the services of two masseuses it is our priciest massage.
Incall rates start from £240 GBP - Outcall rates start from £300 GBP