This week is International Celebration of Sex week, and we are certainly not going to let this holiday pass us by…
We have decided to commemorate with a week-long extravaganza, every day we will publish a post celebrating the heroes of the sex world. We want to hear your stories, we want to open a discussion, we want everyone to stand on their desk, table, kitchen top and raise a toast to the wonderful, the weird, the down-right dirty world of sex.
Today we are paying homage to the erotic massage industry. Massage parlours, outcall services, beautiful oriental masseuses, tantric, Nuru, prostate, happy ending, a world of pleasure and wonder. Our focus, however, isn't going to be on the sexy masseuses, instead, we are looking at who is walking through the parlour doors… who are the men that get massages?
We put a post online asking erotic massage clients basically to introduce themselves. Now I know what you're thinking… people going for a massage typically choose to go incognito, anonymity is valued in high regard. However, we were discussing this and thought that it's a shame that it's a secret. It's a shame because, as a masseuse, I know that every type of guy gets massages. I was wondering what would happen if people knew that everyone who gets a massage, wonders whether people would change their perception of the parlour scene. I was unsure how many responses my call out would get. I wrote a post asking regular clients to introduce themselves, occupation, age, etc. and what they think of massage.  I was inundated with responses! (thank you) and I selected a few (with permission) to show you guys.
This list of 'Who's Walking In The Door Today', I hope will prove how eclectic a bunch we are! And I think that's something we should be celebrating! Don't you?
First up we've got Terry, 42, Investment Banker, married, enjoys triathlons and gets a 4 hands service once every couple of months.  Here's what he had to say…
Terry:
"I have a pretty hectic life; I work in London throughout the week, long hours, high pace, high stress and travel home on Fridays to spend the weekend with my wife and two sons in Devon.  Well that's always been the plan but you know what it's like, I don't have the kind of job that respects a working man's weekend… I'd say at least two out of the four weekends a month I spend catching up on paperwork back at the office. But that's life; my wife understands that it won't always be like this. I'll be retired by the time I'm 50, we've discussed emigrating, live out our years somewhere hot. I got my first massage after a particularly stressful week at work. I hadn't been home in two weeks and after a major cock-up, I knew I'd be spending another weekend stuck at the office grazing on takeout. I felt genuinely lonely, I don't have any mates in the city anymore, everyone moved out in to the countryside, I have friends that work in London but they all drive home at the end of the day, and spend the weekend with their kids. So I felt alone and tired, I just wanted to de-stress, and truthfully I was pretty horny. I decided if I was gonna do it, I may as well do it… I'd never had a threesome, and even though I'm happily married, I figured it'd be a shame to go my whole life not giving it a go. So I booked it, and I'll admit I was a little nervous before but after? I felt amazing. There's no words I could use to do it justice. 4 hands involves two girls massaging you at the same time, this means you get a deeper tissue massage (which I certainly needed carrying around so much stress) and the sex? It wasn't romantic, it was psychical, it was carnal, it was three bodies pleasuring each other, it was great. I realise now that before going in for a massage I wasn't just stressed, I was depressed. Now, whenever I'm feeling lousy I go to a parlour. I see it as going to the doctors, when I'm feeling rundown I get a massage and I don't feel down anymore, it's that simple. My wife is aware of my massages and has even said it has improved our sex life. We're all adults, it's not cheating, it's just looking after yourself, and why the hell shouldn't you do that? I swear I was on my way to an early grave before I found massages."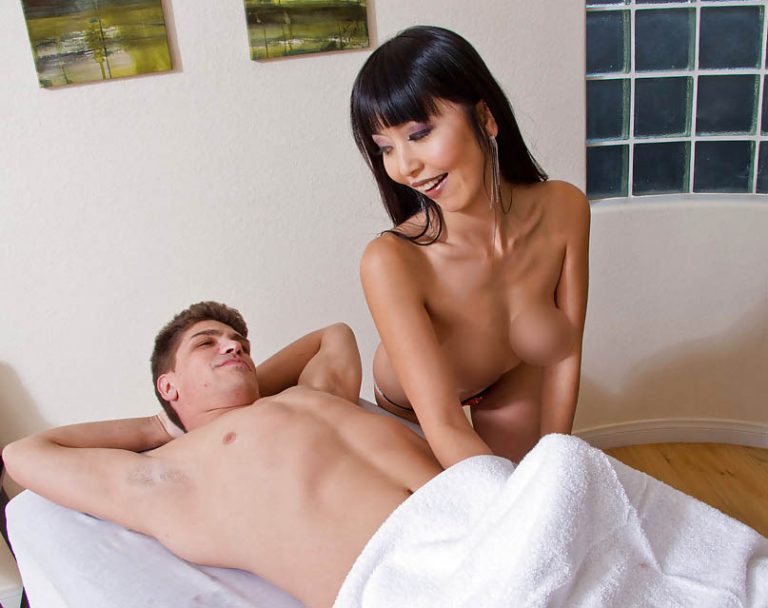 Next, we have Kevin, 24, Graduate recruitment officer, single, keen cyclist. He has been to the parlour a few times and is interested in tantric massage.
Kevin:
"Moving to London was a big step for me, I'm from Sheffield originally and I suppose I had no idea how lonely I could feel. I was under the allusion that no-one is lonely in their twenties. I thought it was only when you got older it was hard to meet people. Your twenties are supposed to be parties and hookups. If these things are going on, I certainly don't know about them. I work a lot and go for drinks and stuff on weekends but mostly go home alone. I've been on Tinder and all that but I can't really keep a relationship going right now, to be honest, I'm just not sure I want one. I like my independence, but I also have needs… A colleague recommended the parlour to me and one night after work I thought I'd check it out. I had the tantric massage and it blew me away, feeling that connected with another person felt amazing, tantric is all about pleasure and you get plenty of it… but aside from that, you learn how to pleasure each other- I definitely learnt a lot in those first few sessions. Funnily enough, I met my current girlfriend on a tantric group on Facebook. We now go and get couples massage together; I'd recommend the service to anyone."
Finally, we've got a post from Hang, 37, I.T consultant, amateur ice hockey player, married. Has tried all different kinds of services but would say lingam is his favourite style.
Hang:
"I wouldn't say I am a regular but I do enjoy a massage every now and again. I go between China and London for work so I find myself travelling a lot. Sometimes a massage can really help alleviate jet lag; I don't know where I would be without it! I don't believe it counts as cheating if you are not in the same country as your partner, my wife understands this. I'm not normally one to contribute to stuff like this but it popped up in work and I figured yeah why not celebrate massage parlours? We'd all be unhappier without them."
So, three men, all different, all enjoy massages. So what about you?
Now you have heard the stories from our three gentlemen above, why don't you try an erotic massage for yourself? One thing is for sure, it will be an experience that you will never forget.