The clocks have gone back and Halloween is over, which means one thing… It's officially Christmas season! Here at Sensual Adventure, we love nothing more than this time of year and the joy it brings. As most of our masseuses are from countries in Asia where Christmas is not celebrated as much as it is here in the U.K, we decided this year to get them into the festive spirit for their first Christmas in London by doing the "12 Days of Sensual Massage."
We have put together a list of our top 12 most popular Japanese sensual massage services, one for each day of Christmas and don't worry gentlemen, here at Sensual Adventure we don't care if you have been naughty or nice…
Day 1 Sensual massage – Soapy shower
What better way to get warmed up this winter than by starting off your first day of Christmas with a sensual soapy shower massage with one of our beautiful masseuses. We have shower facilities at all of our massage parlours in London which you can use for an extra fee of £20, where the masseuse of your choice can assist you for some fun. Whether you want to incorporate your massage into the session while you are in the shower, or you just want the masseuse to soothe your skin with oils and gels before your massage, we can offer you some sensual shower loving this Christmas. 
Day 2 Sensual Massage – Nuru massage
Nuru massages are highly sensual and a crowd favourite, why not overindulge this Christmas with some slippery loving. Originating in Japan, this unique massage style offers customers to have a true and authentic oriental massage experience; as good as you would have in Asia. Using her physique and special Nuru gel that is made from natural extracts such as nori seaweed, the masseuse will slip and slide all over your naked body, creating a lot of arousal and pleasure for you. 
Day 3 Sensual Massage – Happy ending
A happy ending massage is simple yet highly effective, perfect for both first-timers and regulars to sensual massage therapy. The masseuse will use her gifted hands to provide you with relief, massaging and rubbing all areas of the intimate areas including the testicles, helping you to reach multiple orgasms within your session.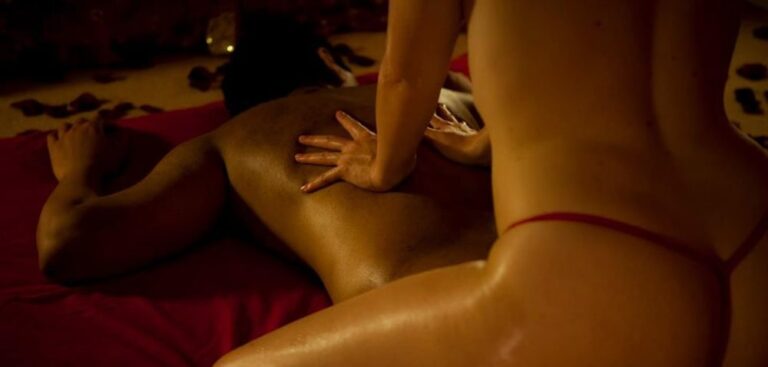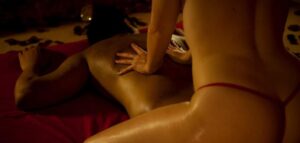 Day 4 Sensual massage – Prostate massage
Christmas is usually always about tradition, but why not try something new this year and have a prostate massage? If you have always wanted to try anal play but have been too nervous or haven't had the chance then this unique and adventurous massage style is the answer. The prostate gland can be massage by either inserting a finger in a hook like shape inside the anus or by kneading the knuckles gently across the perineum. Prostate massages bring such pleasure because it is where the male G-Spot is located!
Day 5 Sensual massage – Lingam massage
Lingam massage therapy is a great way to explore your spiritual side this Christmas as it is all about taking your mind and body on a journey together. The word "lingam" translates to "wand of light" and represents the honour and respect that the penis is approached with throughout a lingam massage session. 
Day 6 Sensual massage – Four hands massage
If you want double the pleasure and double the fun then why not have double the set of hands? Our four hands package means that customers can have the chance to not only have one masseuse tend to their every need and desire but two. Working in a well-communicated and synchronised motion, two therapists of your choice will bring you intense levels of relaxation and pleasure from start to finish. 

Day 7 Sensual massage – Couples massage
Our sensual couples massage is perfect for spicing things up in the bedroom with your partner, especially if you have lost that spark but still want to make the relationship work. While you and your other half kick back and relax, one of our beautiful masseuses will pleasure and please both of you. Our sensual couples massage is known as connecting and bonding couples and is highly pleasurable. 
Day 8 Sensual massage – Two hour session
Many of our customers opt for our two hour sessions during the winter months as it helps them to overcome feelings of seasonal depression or anxiety. Our two hour sessions allow you more time to relax and more time to receive pleasure. 
Day 9 Sensual massage – Fetish massage
Whether you like admiring feet, having food ate off your body or enjoy a spot of role play, why not celebrate your sexual fetishes this Christmas by adding them into your sensual massage session?
Day 10 Sensual massage – MILF massage
If your taste is older and mature ladies, then why not visit us and use our sensual massage MILF package? Your very own Mrs Clause, what more could you ask for?
Day 11 Sensual massage – Tie & tease massage
One of our most sensual and popular massages this year has been the tie and tease, men can experience some light-hearted BDSM mixed with passion and sensuality. 
Day 12 Sensual massage – Full service massage
Full service massage enables the customer to have a full body to body massage that is highly passionate and sensual, followed by hand relief, oral and intercourse. This massage style is truly luxurious and loved by all of our customers throughout the year, but especially at Christmas.